Bibliotherapy: How My Pandemic Escapism Taught Me Something New About Reading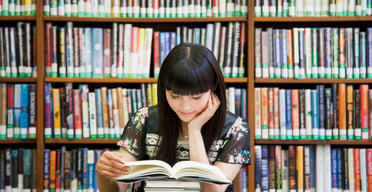 Morgan Flanagan-Folcarelli
•
9 Apr, 2021
• 3 minute read
Reading was my favorite activity as a child. On family vacations, you could find me holed up in my room with a stack of library books, completely lost to the world. One summer I finished 12 books in six days; at school, you would find me in the library at recess, or tucking an open book under my desk during class.
My love of reading was so great it led me to study English in college. But when this interest was formalized in an academic pursuit, I found myself losing my passion for books. For-pleasure reading was moved to the back-burner; I did not have the energy or motivation to read anything beyond my assigned texts for class. Even after graduation, I couldn't find the drive to maintain a reading habit. Occasionally a book would spark my interest, and I would read nonstop until I finished it—but those moments were fewer than they had once been. "This is being an adult," I thought. It wasn't something I reflected on too deeply.
And then the pandemic began. Suddenly, the confines of my world grew much, much smaller. At no point did I think to myself, "Now would be a great time to dive back into reading," but that was exactly what I did. The amount of time I had in my life to read did not increase; I was lucky/privileged enough to keep my job, so I had the same responsibilities as before. Reading, however, became a priority in a way it had not before. I remember joking with my colleagues at one point that I was concerned I was reading too much, yet I also found the escapism my reading provided incredibly cathartic.
A year later, I've read ten books in the last month. I'm tracking my reading on The StoryGraph, a free web app that also provides recommendations for new books. And, along the way, I've become a bit more intentional about my reading. When I find myself wanting to throw everything aside and immerse myself in a new series, I try to take breaks between books and reflect on the feelings that are compelling me to dive in so deeply. Doing so has made me wonder—what role can reading play in helping us navigate intense times in our lives?
A quick Google introduced me to the concept of bibliotherapy, or the use of structured reading materials as a form of therapeutic intervention for mental health. A number of papers have been written on the subject, covering the history of bibliotherapy, bibliotherapy for children and adolescents, as well as a subtype of bibliotherapy specifically focused on fiction or poetry, sometimes termed "creative bibliotherapy."
This latter type of bibliotherapy struck me as particularly relevant, given my pandemic reading-revitalization. It also surprised me. When I imagine using books as a therapeutic aid, the idea of assigning certain kinds of self-help resources or texts written to address mental health issues and coping strategies is intuitive, something akin to therapy homework. Reading fiction or poetry, however, feels like a far different approach, one that perhaps accomplishes something distinct. Along these lines, I discovered the Journal of Poetry Therapy—the official journal of the National Association for Poetry Therapy (NAPT). The fact that both the journal and NAPT exist is thrilling to me for reasons I am still parsing out, but I found the beginning of an answer in the title of NAPT's 2021 conference: Remote but Connected: Navigating the Storms of our Lives through Poetry & Story. It seems I am not alone in finding connection through stories, especially in the storm that has been the last year of my life.
One of the conference's first sessions was entitled "Poetry Therapy: A Doorway to Understanding and Alleviating Loneliness." This, more than anything, captures some of what I have come to understand about my reading these last twelve months. There is something specific and noteworthy about how reading fiction and poetry can help people understand an experience they are having by the very emotions it conjures up in them.
Bibliotherapy, creative or otherwise, can be used by a number of different professionals in distinct settings. NAPT cites its members as encompassing "social workers, psychologists, educators, counselors, physicians, nurses, occupational therapists, recreational therapists, librarians, chaplains, holistic healers, coaches, creative writing specialists, and performance poets," among others. The most recent issue of the Journal of Poetry Therapy includes pieces on creative writing at a Swedish psychiatric inpatient clinic, using poetry and digital media to improve the science learning of upper elementary African American students, and an inquiry on poetic-narrative autoethnography. There is a lot of information out there, and an abundance of interesting things to learn about the intersections of reading and supportive practices for mental health!
Even outside of professional practice, however, I think there is something compelling about the potential stories have to change our perspectives, behaviors, and our thoughts. I'm looking forward to reading more about bibliotherapy the next time I pause from my fiction pursuits. Maybe you'll join me in considering something new about reading, too.