Building Resilience: Journey to Mindfulness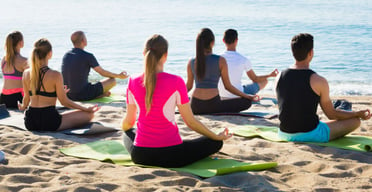 Emily Hoyle
•
19 Mar, 2021
• 2 minute read
I am sure that I am not alone in sharing that l have wrestled with emotional regulation and often fail to truly self-regulate through mindfulness practices. It's hard to say if I am just a poor practitioner or if it's something deeper. Nonetheless, I haven't quite found the practice that is right for me.
Not everyone around me shares in my failures. My partner, for instance, meditates nightly and claims to reap massive benefits from the routine. My co-workers, many of whom I look to for advice on how to manage my workload and the offsetting torments of pandemic life, have their own mindfulness practices and are giddy when presented with the opportunity to explore new ones in workplace meetings. For them, mindful self-regulation acts as a railing preventing a tumultuous emotional tumble.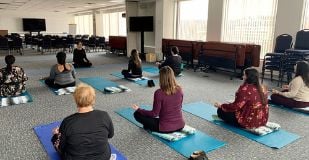 One thing I appreciate about working at the Consortium is that my past mindfulness failures don't preclude me from enjoying staff mindfulness retreats, many of which encourage me and my colleagues to investigate our routines and consider new regulatory tools. I have, and will continue to have, countless opportunities to find a practice that meets my needs and unlocks my strength.
Pictured: CWC staff lead an in-office meditation session February 2019
This same benefit will be extended to you on April 28th during Alicia Davis' The Resilient Practitioner training. Ms. Davis, who frequently leads the Consortium's mindfulness staff retreats, invites you to consider your current status as a self-regulator, identify what might be holding you back from regaining control, and set achievable goals that meet your personal and professional needs. As Ms. Davis explains in her training description, "Emotions are powerful influences of behavior that can physiologically override the rational, thinking, and reasoning mind within seconds. Being able to cultivate self-awareness, practice self-regulation and effectively respond to potentially overpowering thoughts and feelings are critical skills to have in a clinical environment."
Ms. Davis will highlight Core Energy Coaching Techniques — a style of client management where "coaches have received specialized training to uncover these inner blind spots, gently bring awareness to the client, and shift these inner blocks to cultivate new perspectives and helpful beliefs that support the client's success from a deep and sustainable level." Core Energy Coaching empowers coaches to meet the mindfulness needs of their clients by providing the tools necessary to connect a client's desires with concrete, sustainable solutions.
I understand that many of you endure stressful work environments. Knowing this, I cannot think of a better way to support yourself and your clients than by adding mindfulness regulation to your existing routines. While I personally still struggle with daily mindfulness, each of Ms. Davis' retreats have left me feeling seen and rested and have inspired me to step outside of my mental limitations and consider mindfulness once again.