Don't hit pause on learning! Join us for our free Lunch and Learn series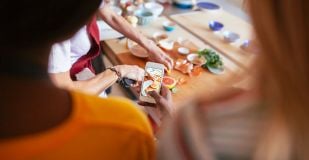 Shannon Perkins
•
3 Mar, 2021
• 2 minute read
For nearly 25 years, the Connecticut Women's Consortium has been a driving force in continuing education for the behavioral health community. From its inception in 1998 to today, the Consortium has seen exponential growth in training numbers and the variety of topics we offer. To date, we have facilitated four national conferences. In 2020 alone, we hosted more than 4,000 participants across over 100 workshops and training events.
This year, we have sought new partnerships and opportunities to foster our community connections in Connecticut. Born from that work, we launched the Lunch and Learn series in January to expand our list of accessible and impactful trainings. Lunch and Learn sessions promote communication and creative ideas without requiring hours of virtual training. Each session features 60–90-minute presentations on a variety of behavioral health topics and are open to the behavioral health community and beyond for free.
Stemming from our efforts to broaden our reach in the community and offer high quality education opportunities to people of all backgrounds, at least one Lunch and Learn session will be offered each month. Upcoming topics range from clinical skills to self-care. As we continue to push for the highest quality in continuing education, we welcome all participants.
Check out some brief descriptions of our upcoming offerings below or click here to review our offering list.
Everything You've Always Wanted March 25th, 2021
Trainer: Elaine Bentley-Baughn, MS, LMFT
"Everything You've Always Wanted": Two exercises for managing task overwhelm and manifesting life satisfaction. Using simple and fun exercises, we can clarify goals, look at what's getting in your way, and create straightforward strategies for getting things moving.
Mindfulness: Finding Calm in the Chaos
April, 22nd, 2021
Trainer: Transformative Leadership Strategies, LLC
Participants will explore the connection between how worry creates a feeling of anxiety in the body and how to begin to shift negative thinking patterns through mindful attention and intention.  They will also practice various centering and breathing exercises to deepen their awareness of how to create a sense of calm and peacefulness in their body, mind and heart.  No prior experience in mindfulness practice is required.
Peer Support as a Healing Practice
May 12th, 2021
Trainers: Kelvin Young, Certified Sound Healer & Annette Diaz, MHFA, RSS
Join us for Peer Support as a Healing Practice. An evidence-based practice that promotes healing as a form of self-care in Recovery Support Specialist/Peer Support roles. Annette & Kelvin will share resources and skills to become more resilient in your own recovery.
Making Sense of Scents: De-Stress with Aromatherapy
June 17th, 2021 Trainer: Alicia Feller, LCSW
Learn the basics of aromatherapy and how essential oils can help relieve stress. This one-hour seminar is packed with information and includes a guided meditation.
All Lunch & Learn with the Consortium sessions will take place in Zoom, pre-registration is required, and a certificate of attendance will be available for all who participate. 
Learn more and sign up today at www.womensconsortium.configio.com/go/lunchlearn.