Fostering Connection in 2021: Welcome to the Consortium Speaks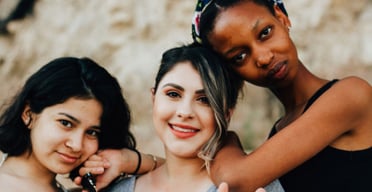 Emily Hoyle
•
26 Jan, 2021
• 1 minute read
A reflection of the past year demonstrates the value of resilience, innovation, and flexibility. These are not trite qualities. At the Consortium, our flexibility as a staff has been our underlying strength as we adapted our business to meet the needs of an ongoing crisis. Our resilience as individuals – demonstrated as we worked through moves, breakups, engagements, and the loneliness intrinsic to the year - forced us to find new ways to connect, to survive.
The Consortium Speaks is one of these connections. Born out of our desire to share our ongoing projects, concerns, and interests with the behavioral health community and to learn from our peers about their endeavors, this blog will be used as a platform for formal and informal conversation. All are invited to join our staff and trainers as contributors. And, as we move forward, this blog might help to meet the new demand for connection, discussion, and community.
While 2020 deprived us of many things, the influx of digital connection allowed for deeper community development and new projects oriented towards keeping connections alive. Some of my favorites here at the Consortium include:
Help is Here: Brought to you by the Connecticut Department of Children and Families and The Connecticut Women's Consortium, the Help is Here series provides information and resources to families and caregivers about youth substance use. Over nine weeks, experts such as Elisabeth Canata, PhD., Alicia Davis, PCC and Stacie Watson, LPC, and Ana Gopoian, among others, presented to clinicians and parents alike, explaining in detail the pitfalls and potentials of youth substance use, treatment, and recovery. The series ended in late 2020 with Kenneth Cayones and William McClendon's presentation on substance use disorders, but you can find it in its entirety here:
Lunch and Learn: The Connecticut Women's Consortium's free Lunch and Learn series debuted last month. Intended to continue behavioral health conversations beyond formal trainings, this free series features Consortium trainers in hour-long surveys of a number of topics. Participants are invited to explore these complex topics in a meaningful and clear way. Learn more and register for upcoming conversations here.
As Co-Editor of The Consortium Speaks, I am beyond excited for this opportunity to begin a new form of connectivity between the Consortium and the behavioral health community. My fellow Co-Editor, Morgan Flanagan-Folcarelli, and I hope to meet our early inspirations and foster community connection by selecting and publishing engaging pieces for you to enjoy. We hope that you, our readers and contributors, feel inspired to respond, to add, and to take part in this conversation.
We look forward to fostering connection with you in 2021!