Gerontology: Supporting America's Growing Population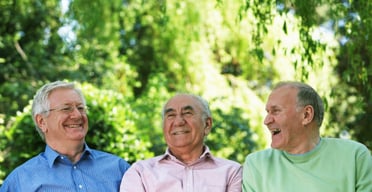 Morgan Flanagan-Folcarelli
•
12 Mar, 2021
• 2 minute read
In the next 30 years, the number of adults 65 and older is expected to nearly double from today's 46 million to approximately 90 million. Within the next 10 years, older adults will make up
1 in 5 Americans.
Despite this growth, the number of providers who are skilled in supporting older adults remains relatively small. In a New York Times article from 2020 on the lack of geriatricians—doctors who specialize in caring for the medical needs of older adults—Paula Span cites a federal model that estimates 33,200 geriatricians will be needed by 2025 to care for this increasing population. In 2020, there were only about 7,000—3,000 of whom practiced full-time.
While geriatrics represents the medical needs of older populations, gerontology is the multidisciplinary study of the aging process, including the societal impacts of aging populations, policy and programmatic implications and applications, and the varied changes and needs of aging people. There are even fewer gerontologists than geriatricians. In 2015, fewer than 5,000 people were estimated to have advanced degrees in gerontology.
Aging is an inextricable part of our lives, and many—if not most—of us are connected both personally and professionally to people who are over the age of 65. It is more important than ever that we learn about aging and the needs of older adults in our communities and society.
If this subject is new to you, reading research articles and looking up data may not be your favorite way to approach it. With that in mind, here are a few podcasts that can help us begin thinking more about aging in America.
Aging, from HEAR ARIZONA on KJZZ-FM (National Public Radio)
Inspired by her own experiences caring for her mother after her dementia diagnosis, Kathy Ritchie dives into the many experiences of aging in this Arizona podcast series. Some covered topics include "Grandfamilies," "Growing Old LGBT," and "Sex and Dementia." At only five episodes long, this series of 20-minute episodes is a quick and well-reported listen on a range of topics related to growing older. You can find it on Apple Podcasts or listen here online at NPR's podcast directory.
The Gerontologist Podcast, from GSA on Aging Podcast Series (The Gerontological Society of America)
If you are interested a podcast with a more clinical focus, The Gerontologist Podcast is for you! The most recent episode from September 2020 is entitled "COVID-19 and the Aging Prison Population with Dr. Stephanie Prost." In the first few minutes, Dr. Prost remarks that "The reality is that a lot of our correctional settings do look more like long-term care settings than they ever have before," to which the podcast host responds, "We have our mental models about aging in institutions, but usually the mental model is a nursing facility, or assisted living." I had never considered this aspect of aging in our society, and I found that exchange eye-opening.
Featuring interviews with different experts in the field (and a relevant paper they've published) each episode, this podcast covers topics ranging from loneliness to transportation needs among older adults, each ringing in between five to 40 minutes. You can find it through most podcast applications, including on Spotify, and online here at The Gerontological Society of America's website.
GeriPal Podcast, from GeriPal, a Geriatrics and Palliative Care Blog
A podcast series for folks who enjoy episodes 40 minutes or longer, GeriPal features specialists in the fields of geriatrics, hospice, and palliative care. Unlike The Gerontologist Podcast, which focuses primarily on a recently published paper and author as a starting point for each episode, the GeriPal Podcast looks at research and beyond, covering controversies, trends, and more. The most recent episode on "Reframing Aging" was released on March 4th, so its hosts are actively updating the content each week. You can listen through most podcast applications, including on Spotify, and online here at the GeriPal website.