Military Sexual Trauma and the Behavioral Health Field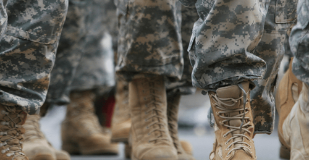 Morgan Flanagan-Folcarelli
•
17 Jun, 2021
• 2 minute read
A 2014 JAMA Psychiatry study found that about 1 in 4 active-duty military personnel demonstrated symptoms of a mental health disorder. Among veterans who served in Iraq or Afghanistan, studies have found that 20 percent live with major depression or post-traumatic stress disorder. It is safe to say that the behavioral health field has many applications for those who have been involved with the military and that practitioners are well-served by learning how to address the specific experiences of military members.
One increasingly publicized issue is that of military sexual assault. In fiscal year 2019, 6,888 reports were received of sexual assault involving service members as victims. The number of formal complaints of sexual harassment increased by 10 percent from the previous year. The prevalence, and increase, of sexual violence in the military has many implications for the mental health of service members and veterans.
The Consortium is privileged to once again welcome Jason Deviva, PhD for his training, Military Sexual Trauma: Eligibility, Effects, and Treatment Considerations, on August 20th. This half-day session will provide participants with the opportunity to learn about military sexual trauma (MST), including the legal definition of MST, its possible impact on functioning, and common diagnoses associated with MST. Participants will be invited to engage in discussion on treatment and programs for MST, including VA services, strategies discussing a veteran's sexual trauma status and history, and methods for working effectively with individuals. Finally, participants will learn about the effects of military sexual trauma and how it may manifest to health care providers.
With Dr. Deviva's training a little more than a month away, we have included some additional resources for further learning on this topic before August.
For those who prefer to learn by watching:
This 2012 documentary helped launch a wave of policy change upon its release, and it continues to inspire advocates to push for legislative change today. Senator Kristen Gillibrand credits the documentary with bringing her attention to the issue and recently introduced the Military Justice Improvement and Increasing Prevention Act, a new bipartisan bill intended to further improve the military's response to sexual violence.
For those who prefer to learn by listening:
PsychCentral Podcast: Male Survivors of Sexual Assault and Abuse.
This episode features interviews with Dr. Joan Cook, a clinical psychologist and Associate Professor in the Yale School of Medicine, Department of Psychiatry, and Dr. Amy Ellis, a licensed clinical psychologist and the Assistant Director of the Trauma Resolution and Integration Program (TRIP) at Nova Southeastern University.
The Daily: A #MeToo Moment in the Military
This episode of The New York Times podcast, released following the murder of U.S. Army soldier Vanessa Guillén in April of 2020, explores "what some claim to be a pervasive culture of sexual harassment inside the U.S. military," and features guest Jennifer Steinhauer, a Washington reporter for The New York Times. Most recently, a military investigation released on April 30th, 2021 revealed that Specialist Guillén was sexually harassed by a different perpetrator prior to her murder, and that the soldier charged with her death was himself accused of unrelated sexual harassment.
For those who prefer to learn by reading:
The New York Times: "Six Men Tell Their Stories of Sexual Assault in the Military"
This 2019 article offers an unflinching look at the stories of six men, across generations, who experienced harm not only from their attackers, but also from the military itself through the inadequate response of their superiors and leaders.
Military Panel Urges Taking Sexual Assault Cases Out Of Commanders' Control
This article discusses a recent report from a special Pentagon panel and its implications for how the military addresses sexual assault.