Punching the Air: The Trauma of Injustice and the Promise of Art in Recovery (Book Review)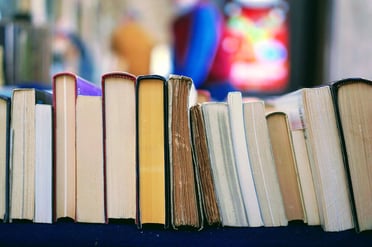 Kathleen Callahan
•
21 Apr, 2021
• 3 minute read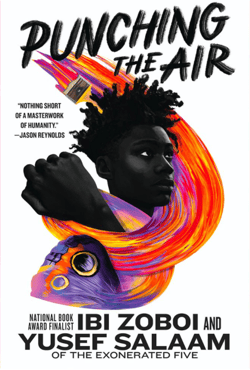 In the midst on the COVID-19 pandemic the summer of 2020 was defined by the national resurgence of the Black Lives Matter movement. The COVID public health crisis laid bare the inequities and disparities experienced by Black individuals and communities across America and further emphasized another public health crisis: racism. It was a fitting moment for the release of Punching the Air, a young adult novel-in-verse co-written by award-winning author Ibi Zoboi and prison reform activist Yusef Salaam. Salaam's own experience as one of the wrongfully incarcerated teenagers in the sensationalized 1989 Central Park case inspired the novel.
This beautifully rendered story opens when 16-year-old Amal Shahid, a promising artist and poet, is sentenced to a juvenile detention center for a crime he did not commit. The case at hand features a playground fight that left a white boy hospitalized and unable to speak. With a voiceless victim, Amal becomes the assumed perpetrator. Weaving Amal's poetry and art throughout the pages, the authors invite the reader to enter his world through a profoundly intimate vehicle – his memory, thoughts, and emotions. Amal comes to life, anchored in his present situation of incarceration, with return trips to the past and dreams for the future. In poetic verses which alternate between subtlety and bold authenticity, the reader discovers the trauma intrinsic to racism, wrongful convictions and youth incarceration as well as the healing powers of artistic expression and connection.
As the system takes hold, Amal is separated from his loving mother and close friends. He, at 16, is left alone to navigate the cruel realities of the juvenile detention center as he waits for the victim to speak and for the truth to emerge. Long before the racially charged fight, Amal is aware that truth and justice are not the same for everyone. A literal taste of this unequal treatment arrives early when Amal bleeds after an assault by an officer who is reacting to Amal's spoken rhyme during transportation from the courthouse to the detention center. Personal expression, Amal would learn over and over, was not expected and often suppressed.
because where I come from

jail or death

where the two options she handed to us

because where he comes from

the American Dream

was the one option she handed to them

- BLIND JUSTICE
Amal's perspective on Lady Liberty's options for boys of color is grounded not only in his innate wisdom but also in his experience with and witnessing of the burden of racism. Lebron et al. (2015) describe the systemic challenges boys and men of color face to include implicit bias, wide-ranging economic disadvantages, low educational outcomes, low rates of employment stability and mobility, and disproportionate criminal justice involvement. Combined with repeated, unresolved microaggressions and discrimination, and wrapped in the context of history passed through generations, the trauma of racism can lead to feelings of powerlessness, inferiority, exclusion, and unworthiness (Lebron et al., 2015).
I find a spot to sit

because it feels as if

everything that is alive inside of me

is floating away

I'm not in my body

- INFERNO
The reader is intimately connected to Amal through his use of personal images and words. We feel his feelings of explosive rage, fear, isolation, and depression. Sensations of floating away from his body, breathing under water, and disappearing are all descriptive symptoms of depersonalization (Simeon et al., 2000) and are all included in Punching the Air. Racial trauma, in the form of classroom bias and gentrifying neighborhoods, fed Amal's resignation to being an unmotivated and disruptive presence, and his belief that his community was unworthy. The final injustice, not unexpected but just as toxic, was a wrongful conviction. It is not surprising that justice-involved youth – with an overrepresentation of Black children – report high rates of exposure to traumatic events, often beginning early in life, both chronic and complex, with diagnostic criteria met for a mental health disorder at an average of 70% and post-traumatic stress disorder around 30% (Dierkhising et al., 2013).
And maybe

there are small

cracks in our walls

and we start to see

a sliver of light

shine through

in each other



- BROTHERHOOD VI
As time passes, Amal alternates between hope and despair. Connections with others in the center slowly create a safe space where he can share his poetry. His swagger shines through his hip-hop rhymes until his confidence allows vulnerability, true empowerment, and self-respect. He begins owning his story, his life. Art, as a creative outlet, helps mediate his rage. Recognition and encouragement from an art therapist heal the constant critiques delivered by a teacher. Love and belonging are rekindled by visits from family and letters from classmates. And Amal's hope is awakened by a formerly incarcerated, wrongly accused Black man, a scholar and motivational speaker who embodies potential and emphasizes the importance of representation.
In my cell

lets me know that

I am human

lets me know that

I feel I feel I feel



- MEDITATION II
The reader may be tempted to assume Amal is the teen Salaam as they both share a love of hiphop, supportive friends and families, the trauma of racism, wrongful convictions, and incarceration. While Amal is surely drawn from Salaam's experience and imbued with his brilliance and intuition, he stands on his own. The authors expertly crafted a young man in Punching the Air with his own humanity in a world bent on crushing him.
This review of Punching the Air is a re-post from the spring edition of Trauma Matters. Read the full issue here.