Re-writing Separation: Co-parenting and the power of stability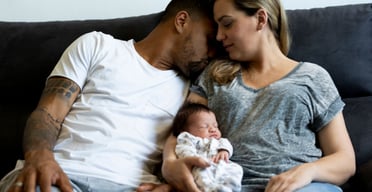 Emily Hoyle
•
5 Mar, 2021
• 2 minute read
Divorce, separation, and family restructuring are delicate endeavors often bogged down by litigation, miscommunication, and intense scrutiny. Even when handled sensitively, shifts in family dynamics leave their mark on every family member. Children often bear an emotional toll from their parents' divorce or separation, and these instances are categorized as 'adverse events' by the ACEs study. As Dr. Jane Anderson details in her survey study on the impact of family structure on the health of children, "Although laws are gradually changing, most children [in a divorce setting] spend more time with one custodial parent and have less time with each parent overall." In a restructured setting where children lose time with one or both of their parents, they are at risk of isolation and stability loss.
This presents a problem for parents who want to maintain the most stable environment for their children. When it is safe for all parties involved, many parents seek to ensure that their children maintain relationships with both of their parents even after separation. Enter co-parenting, a term coined to describe instances where parenting responsibilities and visitation rights are shared equally between divorced or separated parents and where parents continue to work together despite maintaining different households. In a successful co-parenting relationship, parents refer to one another for judgement calls, maintain similar household rules, and offer support to their parenting partner. The stability offered by a co-parenting family structure helps children to adjust more quickly to new family compositions, effectively minimizing the detrimental effects of divorce and separation.
In recent years, co-parenting has become a popular solution to classic divorce and separation issues. Articles from Psychology Today, The New York Times, and Oprah magazine extolling the virtue of co-parenting, marking its limitations, and sharing details of celebrity arrangements, have normalized the process. On "Keeping Up with the Kardashians," one of the highest rated reality shows in production, Kourtney Kardashian has spoken openly for several seasons about her separation and co-parenting journey with ex Scott Disick. See the video on the right where the couple discusses their relationship and shared parenting goals.
As clinicians, therapists, and possibly co-parents yourselves, you have the potential to support your clients as they transition towards a new family dynamic. Prioritizing open communication, healthy boundaries, and respectful agreements can make all the difference for children. Divorce and separation do not have to be wholly negative, and many agree that leaving a toxic family environment behind for better, separate households is a good thing. Thus, the behavioral health workforce's responsibility to provide support is crucial.
Want to learn more about co-parenting? Register now for Welcome2Reality's new training "Building Blocks of Effective Co-parenting: A Client Centered Approach," a 3-hour course where lecturers Qur-an Webb, Marcus Stallworth, and Anthony Gay will explore the benefits and cultural dynamics of successful co-parenting.