Goodbye, 2021: Four Articles You Loved Last Year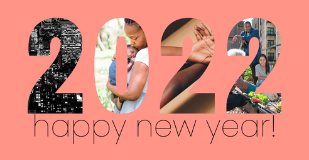 Morgan Flanagan-Folcarelli
•
9 Jan, 2022
• 2 minute read
In 2021, the Connecticut Women's Consortium launched our blog, the Consortium Speaks. Over the course of the year, we published 55 articles.
A year later, we look forward to sharing even more with you about our organization, the behavioral health field, and the work being done in the world to improve behavioral health for all people.
As we move into this new year, we want to take a moment to highlight four of the articles that stood out the most to our readers in 2021.
Erica Reshard
Social workers are trained to work in a plethora of social service capacities and maintain the end goal of improving human condition using strength-based approaches. Front line workers often encounter those considered least likely to succeed, and they often find themselves facing clients with whom they are ill-prepared to work. As the income gap widens and disparities persist, it is imperative that social work education include information about the individuals impacted — it is these communities who receive the majority of clinical services.
Jaquanna Soules
From the first day [I met with my OBGYN practice], I began to realize how much race truly mattered. My husband was stationed in North Carolina because he was an active-duty Marine at the time. Despite being married, I was immediately treated as a single mother and was presented with pamphlets for state insurance and WIC. Every visit I had to give the same speech, saying, "Thank you, but I do not qualify, I am currently working, as is my husband, and we are fully insured." Next came the questions about health. When it came to certain screenings for my child, I was told on occasions that I "didn't need to worry" because "this isn't a disease that black people get." I had to let them know my husband is biracial and ask that they please test our child for everything.
Amy Lane
Back in 2018, I had the opportunity to attend Emotional Freedom Technique: Care for Clients and Practitioners presented by Catherine Ewing, LCSW, MDIV. If you are unfamiliar with the Emotional Freedom Technique (EFT), aka Tapping, it is powerful tool that helps process and release traumatic events, emotions, and negative thoughts through the action of using a tapping motion of the fingertips against certain energy meridians on the body.
Emily Hoyle
In Introduction to the Community Resiliency Model, a video produced by the LA County Library system, Christian Brown details the difference between resiliency-based and trauma-informed approaches, saying, "Trauma-informed [care] says, 'people are suffering' [and asks] 'What happened to you?'" In contrast, resiliency-based response says, "people are resilient... any person can learn self-regulation skills based on science and biology.' [and asks] 'What are your strengths?'"
From all of us here at the Connecticut Women's Consortium, we thank you for making our first year of the Consortium Speaks one full of connection, conversation, and the exploration of new ideas.
Stay tuned for more, and we wish you a wonderful new year!