Unlearning Weight Stigma to Embrace Our Beautiful Bodies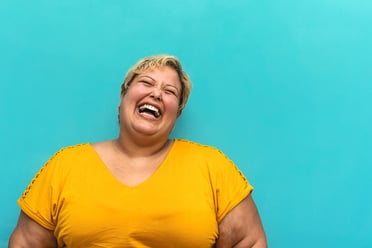 Connecticut Women's Consortium
•
11 Apr, 2023
• 3 minute read
From the time we are little children, we are bombarded with images of idealized bodies and taught that our bodies take up too much space.
The dangerous notion that skinny, white bodies are the ideal, and all others are somehow lacking, takes root in popular culture and works its way into too many of our hearts and minds.
How can we unlearn weight stigma and begin to liberate ourselves and our clients from a system that is designed to make us all smaller and less powerful?
Fighting Weight Bias
Weight bias exists in many aspects of our culture, and it is another layer of oppression faced by marginalized people. The organization Stop Weight Bias defines weight bias as "holding negative attitudes about people's weight or harming and shaming someone because of their weight."
Weight bias — or weight stigma — shows up in the media, in workplaces, and in health care and education. It harms everyone and is a barrier to self-love.
The #stopweightbias campaign offers tools, information, and resources for understanding and reclaiming a future free of weight bias.
One important aspect of weight bias is differentiating size from health.
Health at Every Size®
Large bodies can be healthy and strong, but weight bias often means that people whose bodies don't fit society's norms — or a BMI chart — are considered unhealthy, and they are encouraged to lose weight or make "lifestyle changes."
The Association for Size Diversity and Health (ASDAH) has been working to establish a more holistic definition of health. "Pursuing health is neither a moral imperative nor an individual obligation, and health status should never be used to judge, oppress, or determine the value of an individual," the organization states.
The Health at Every Size ® Principles include the following:
Weight inclusivity. Accepting and respecting the diversity of body shapes and sizes and ridding ourselves of notions of ideal weight.

Health enhancement. Advocating for health policies that provide equitable access to information and services, and paying attention to a full range of human needs: physical, economic, social, spiritual, emotional, and more.

Eating for well-being. Rejecting weight-control-based eating plans and promoting flexible, individualized approaches to nutrition.

Respectful care. Working to end weight discrimination, weight stigma, and weight bias and supporting environments that recognize and address these inequities.

Life-enhancing movement. Promoting enjoyable physical activities that people of all sizes and abilities can choose to participate in.
Weight stigma is often wrapped up with fatphobia and expressed in concern for people's health. Health care providers are not immune to this way of thinking; they often encourage fat people to lose weight despite evidence that dieting harms people's health. The ASDAH cites one study that shows that women who dieted to lose at least 15% of their body weight had double the risk of death when compared to those who maintained a stable weight. The risks of cardiovascular disease also go up when people lose weight.
Size and Weight Discrimination
According to the ASDAH, weight discrimination in employment means that qualified people either are not hired or they are fired because of their weight or appearance. Weight-based bullying harms students, and fat people are less likely to be admitted to college. And transportation facilities, health care institutions, and entertainment venues are not designed to accommodate all body sizes.
This form of discrimination joins with other forms of oppression, including racism, ableism, sexism, and homophobia, to add stress and trauma to the lives of marginalized people.
An article from the American Psychological Association states that more than 40% of U.S. adults have experienced weight stigma.
Studies in the International Journal of Obesity report that weight stigma contributes to disordered eating, sleep disturbances, and alcohol use. Another article in Obesity points to increased substance use and suicidality when people experience the stress of weight discrimination.
Women and LGBTQIA individuals face sizeism more often than others, compounding stress and trauma.
Unlike other forms of discrimination, discrimination based on body size is legal. There are few legal remedies when someone faces weight stigma.
Mental and Behavioral Health Providers
Clinicians can help clients to unlearn weight stigma by understanding the harm it does and pointing clients to resources that can help them reclaim their space in the world.
We can also help by learning to love our own bodies, and sharing the wisdom we gain.
Sonya Renee Taylor, author of the bestselling book The Body Is Not an Apology, writes, "Our society requires a drastic political, economic, and social reformation in the ways in which we deal with bodies and body difference." Taylor has promoted a system of "radical self-love" that investigates and dismantles internal and external systems of oppression.
The Connecticut Women's Consortium training, Healing the Body: Health at Every Size, Intuitive Eating and the Ethical Healing of Bodies, explores the HAES principles and introduces intuitive eating (IE) models that celebrate the bodily autonomy of clients. Instructor Wednesdae Reim Ifrach (they/them) is a nationally recognized eating disorders specialist, art therapist, and social justice activist.
This whole-body approach addresses the racism, fatphobia, homophobia, and ableism that affect the health and well-being of our clients and communities.